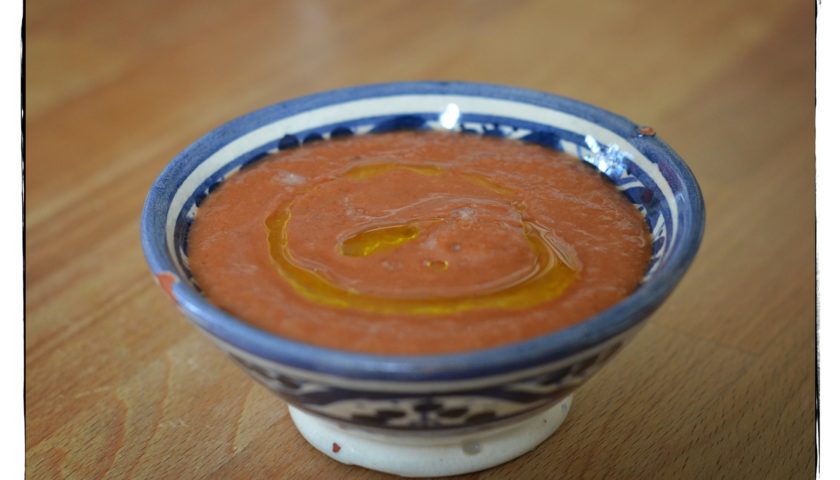 Gazpacho, cold tomato soup
There are various versions of this spanish recipe… For mine there is no onion, peppers are cooked and I don't filter the soup but as everything is peeled the digestion should be improved!
1 heure de préparation, dont 12 minutes de cuisson, au moins 3 heures au frais.
Pour 2 bons litres de gazpacho:
3 poivrons moyens, couleur à choisir en fonction du goût recherché (vert = amer, jaune ou rouge = sucré)
1 gros concombre
1,5 à 2 kg de tomates à chair bien mûres (cœur de bœuf, rose de berne, tomates russes)
½ baguette bien sèche (genre celle de l'épicerie après 24 heures)
2 gousses d'ail
Vinaigre (balsamique pour moi, ou Xeres, plus traditionnel)
Huile d'olive
Sel, poivre

Faire griller les poivrons au four (position grill, 250°C) jusqu'à ce qu'ils noircissent un peu, en les retournant plusieurs fois pour que toutes les faces soient grillées. Cela prend un petit quart d'heure en tout.


Les emballer dans du papier aluminium et laisser refroidir. Les éplucher (la peau s'en va toute seule !) et vider des graines. Couper en gros morceaux dans un saladier.
Casser la demi baguette en morceaux, les mettre à tremper dans de l'eau.


Eplucher le concombre, (option : enlever les graines) et couper en gros cubes, mettre dans le saladier.
Eplucher les tomates (les blanchir 1 minute si besoin pour faciliter), couper en morceaux, mettre dans le saladier.
Eplucher l'ail, enlever le germe, mettre dans le saladier.
Ajouter le pain égoutté et assaisonner comme pour une vinaigrette : sel, poivre, vinaigre, huile d'olive.


Mixer le tout avec un bon mixer, couvrir ou mettre en bouteille et placer au frigo. Les arômes vont se développer. Après quelques heures au frais, goûter et rectifier l'assaisonnement si besoin. Poser un filet d'huile d'olive sur le gazpacho dans les bols pour la présentation.