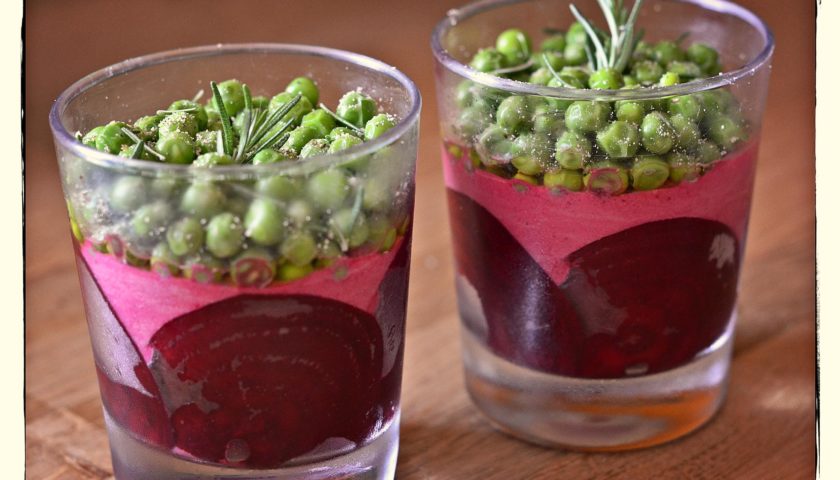 Beetroot, green peas
A very spring-spirit, fresh, pretty recipe. Easy to make and balanced, not far from ideal recipe !
En plus on peut la customiser à volonté avec un lit de betterave crue dessous, un zeste de citron, des graines pour faire du craquant… à votre tour !
22 minutes de préparation
Pour 4 personnes
1 grosse betterave rouge
250g de ricotta et éventuellement du yaourt nature (possible avec le yaourt de soja)
100g de petits pois frais ou surgelés, pas en conserve
1 gousse d'ail
Quelques branches de thym, 1 branche de romarin
Bonne huile d'olive
Sel, Poivre du moulin
Fleur de sel


Eplucher la betterave à l'aide d'un économe. En faire de belle tranches fines, si possible à la mandoline, en transversale, de façon à voir les cercles concentriques qui composent la betterave. Disposer ces tranches dans les verrines (j'utilise des verres un peu solides) en les appliquant bien sur les bords. Elles vont coller toutes seules.
Couper le reste de la betterave en cubes et les mettre à cuire dans une casserole d'eau salée pas trop remplie, avec les branches de thym et la gousse d'ail épluchée et ouverte en 2.
Quand la betterave est cuite, l'égoutter et la mixer avec la ricotta, quelques feuilles de romarin (avoir la main légère !) et un peu d'huile d'olive. Goûter avant de saler, poivrer. Déposer cette « crème » dans les verrines en veillant à ne pas déranger les rondelles de betterave. Mettre au frais.
Faire cuire les petits pois à l'eau, al dente. Déposer une couche de petits pois sur la crème de betterave et remettre au frais pour une heure au moins.
Au moment de servir, verser un filet d'huile d'olive sur les petits pois, fleur de sel, un tour de poivre du moulin et une tête de romarin.